I am still working on my wedding albulm, its not that bad really, i've only been married 2 years...
I asked my brides maids to write me a note or letter about what they remember about the day. This is a LO of me and my maid of honour and the journaling is the letter she wrote to me.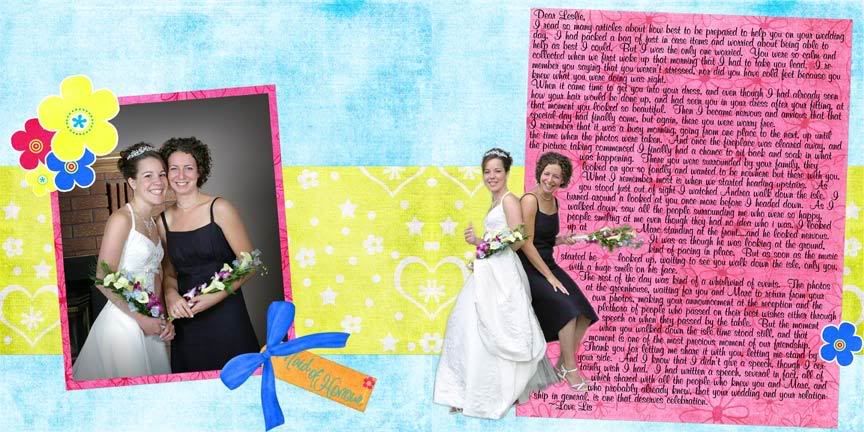 Credits: "Every Girls Mini" by Brownie Scraps, Ramona Brown
recoloured pink flower blue
Fonts: Inspiration, Murphy Script
The journaling reads as follows:
Dear Leslie,
I read so many articles about how best to be prepared to help you on your wedding day. I had packed a bag of just in case items and worried about being able to help as best I could. But I was the only one worried. You were so calm and collected when we first woke up that morning that I had to take you lead. I remember you saying that you weren't stressed, nor did you have cold feet because you knew what you were doing was right.
When it came time to get you into your dress, and even though I had already seen how your hair would be done up, and had seen you in your dress after your fitting, at that moment you looked so beautiful. Then I became nervous and anxious that that special day had finally come, but again, there you were worry free.
I remember that it was a busy morning, going from one place to the next, up until the time when the photos were taken. And once the fireplace was cleared away, and the picture taking commenced I finally had a chance to sit back and soak in what was happening. There you were surrounded by your family, they looked on you so fondly and wanted to be nowhere but there with you.
I think it was your father who was the first to get nervous. I noticed it as we got into the limo on our way to the church, then it seemed to hit us all. We were getting into the limo to head to your wedding, I couldn't really believe it was all happening. Then we snuck into the church basement, talked and got ready.
What I remember most is when we started heading upstairs. As you stood just out of sight I watched Andrea walk down the isle. I turned around a looked at you once more before I headed down. As I walked down, saw all the people surrounding me who were so happy, people smiling at me even though they had no idea who i was, I looked up at Marc standing at the front....and he looked nervous. It was as though he was looking at the ground, kind of pacing in place. But as soon as the music started he looked up, waiting to see you walk down the isle, only you, with a huge smile on his face. The rest of the day was kind of a whirlwind of events. The photos at the greenhouse, waiting for you and Marc to return from your own photos, making your announcement at the reception and the plethora of people who passed on their best wishes either through speech or when they passed by the table. But the moment when you walked down the isle time stood still, and that moment is one of the most precious moment of our friendship. Thank you for letting me share it with you, letting me stand by your side. And I know that I didn't give a speech, though I certainly wish I had. I had written a speech, several in fact, all of which shared with all the people who knew you and Marc, and who probably already knew, that your wedding and your relationship in general, is one that deserves celebration.
Love, Lis
Thanks for reading this far! Now go check out
Emily's blog
for a great element pack freebie!